Portfolio Overview
As at 30 September 2019, BHG Retail REIT's portfolio consists of six retail properties located in areas surrounded by growing middle or upper-middle income families. Our retail malls serve their communities through their wide range of products, excellent experiential services and popular community engagement activities.


Of the six properties, four are multi-tenanted, namely Beijing Wanliu Mall, Chengdu Konggang Mall, Hefei Mengchenglu Mall, and Hefei Changjiangxilu. The remaining two properties, Xining Huayuan Mall and Dalian Jinsanjiao Property, are master-leased to BHG Hypermarket Co., Ltd..



311,691 sqm
Gross Floor Area (GFA)

180,801 sqm
Net Lettable Area (NLA)

98.6%
Occupancy Rate

RMB4,566.9 million
(100%)
RMB3,609.3 million
(Based on 60% interest of
Beijing Wanliu)
Independent Valuation
As at 30 September 2019


Portfolio Lease Expiry Profile
As at 30 September 2019, the portfolio has a weighted average lease expiry of 3.4 years by gross rental income, and 6.7 years by net lettable area ("NLA"). Most lease terms typically range from one to three years. Certain key or anchor tenants may be offered longer term leases.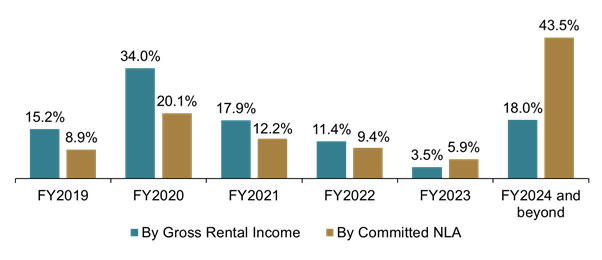 Back
to
Top